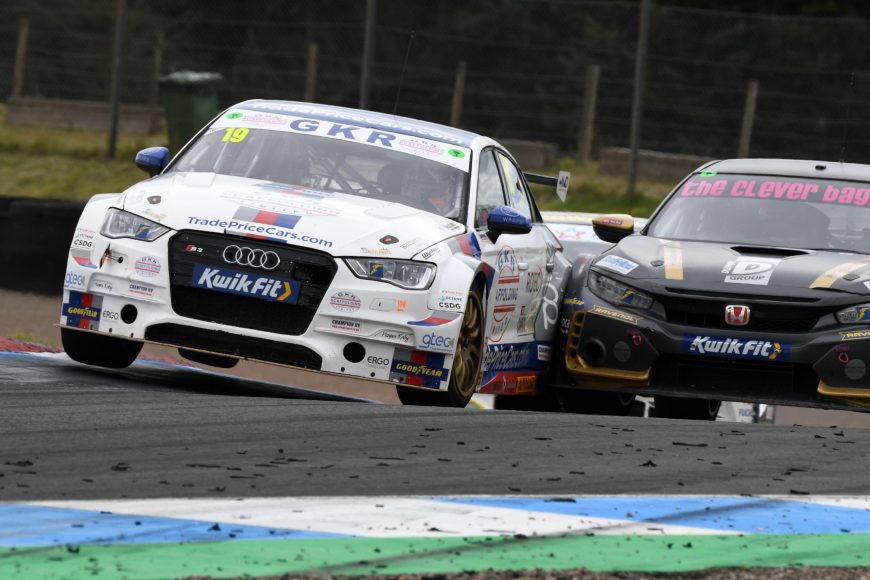 FPZERO Simulators partner GKR TradePriceCars.com team endured a challenging weekend on track as the Kwik Fit British Touring Car Championship headed to Knockhill for the fourth round of the campaign.
The award-winning, Essex-based motor dealership made the trip to Scotland looking to challenge for more championship points but it would prove to be a tough outing for drivers Bobby Thompson and James Gornall.
Despite both lapping within a second of pole position, the highly competitive nature of the field meant that Bobby and James had to settle for 20th and 23rd on the grid, leaving them with work to do on race day on a circuit where overtaking can be notoriously difficult.
The opening race would end in disappointing fashion for James when he was caught out by cars ahead slowing when the action was about to restart after an early safety car period, with the damage sustained as he made contact with the Ford of Andy Neate forcing him to retire.
Bobby had suffered a tough start to the race having slipped back down to 23rd, but he recovered well despite struggling for front end grip and fought his way up to 18th by the finish.
Straight line speed would prove to be an issue for both drivers across race day, but Bobby pushed hard in the second race to fight his way through to 16th place the finish, picking up places with a number of opportunistic moves. However, he would then be excluded for the results for a technical infringement which meant he would start race three from the back of the grid.
James would be forced to contend with an alternator issue that caused a loss of power steering, but he wrestled the Audi to the finish in 20th place.
Both drivers were then able to avoid a multi-car accident that forced the final race to be red-flagged, and would end the restarted 20 lap encounter with James as the better placed of the pair in 18th, having lost a place to the BMW of Carl Boardley after a race long battle in the closing laps.
Bobby was one place further back in 19th, with the two drivers now hoping for a return to form when the series heads to Thruxton for round five next month.
Bobby Thompson, #19 GKR TradePriceCars.com Audi S3, said:
"We've had a challenging time as we struggled with straight line speed this weekend and it was an uphill battle in the races. I pushed hard to try and move forwards in the first two races and had some luck on my side to make up places as other had issues. We got close to the points in race two before the exclusion, which put us on the back foot again.
"From the back in race three it was always going to be difficult and I managed to avoid the incident ahead which was the big plus as we could have picked up some real damage in that one. We have a few weeks now to regroup ahead of Thruxton."
James Gornall, #180 GKR TradePriceCars.com Audi S3, said:
"It's been a really difficult weekend. Through Saturday I felt we were making good progress and I did everything I felt we needed to do to get a good position in qualifying, but everyone else found more time than us which was disappointing.
"Circumstances went against me in race one as I came around the corner and the guys ahead had all slowed ahead of the restart, but it wasn't ideal to retire in that way. Race two was then a huge battle as we lost the alternator belt and I had no power steering, but we pushed on as you never know if people will fall off and you can pick up places.
"I tried hard in race three and I pushed as hard as I could. I felt I'd done well to keep Boardley behind, and I had to push so hard to build a gap in sector one because I knew he was strong later in the lap. Sadly, he just managed to get ahead near the end but this is a weekend to put behind us and focus on the rounds to come."