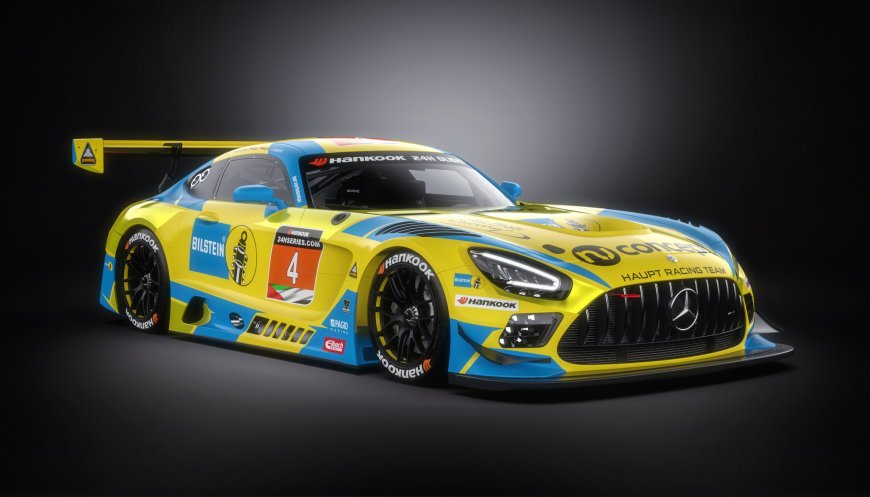 A lot goes through a drivers mind when preparing for any race, let alone a 24 hour race. We caught up with Ryan Ratcliffe after his announcement that he would be joining Haupt Racing Team in the yellow and blue Bilstein Mercedes AMG GT3 Evo for the Dubai 24 hours race on the 15-16th January 2021. Ryan is no stranger to the Dubai 24 hour, nor the Mercedes AMG GT3 car having competed in both on separate occasions in previous years. He will be partnering Hubert Haupt, Khaled Al Qubaisi, Patrick Assenheimer and Maro Engel in the number 4 car.
COVID and travel restrictions will add an extra layer of complexity and stress to the journey out to Dubai for the race at the Dubai Autodrome circuit, so preparation is more important than ever. The inability to test due to national lockdowns also causes problems as the first time Ryan drives the car will be on the race weekend! This puts even more emphasis on the preparation he can do at his home in Wales.
So how does Ryan prepare for the longest race of the year?
24 hour races are both physically and mentally intense so, as a driver, I have to put a lot of effort into my training. The obvious area is my physical fitness. I'm fortunate enough to have a home gym and this has made a massive difference over the lockdowns as it's enabled me to keep in shape throughout 2020 and put that extra bit of training in for Dubai this month to burn off that Christmas dinner!
Drivers racing in GT3 cars go through a lot on track and the long, 2-3 hour stints in the car, with no rest, in the hot Dubai climate really do have a toll on the driver. Their training regime goes up a level and the focus shifts more towards endurance based strength so that even at the end of their stint in the car, they are still in control of the car and it's not the car driving them!
However, it's not just a physical strain that is put on the driver. The driver also goes through a lot of mental strain as they have to remain alert as a slight loss of concentration, or a slight mis judgement could end the race for not only them but their whole team. This is where simulators are extremely powerful, and more so when a racing driver hasn't been out on track or competed in an endurance race for a while. They use the simulator to practice procedures - race starts, code 60 speed restrictions, changing car settings, pit stops and driver changes.
Familiarising yourself of the track is also essential before embarking on any race, especially one so gruelling as the Dubai 24 hours. The simulator is essential for this. With the car and track models supplied by FPZERO on Ryan's Pro II simulator he is able to complete lap after lap of the Dubai Autodrome track in the Mercedes AMG GT3 without even stepping foot in the country! This means that when getting to the track he is not only familiar with the circuit layout but the braking points, turn in points and apexes so that he is already 'in the groove' for that first practice session!
This is the first time I've had the chance to do hundreds of laps in preparation for the race thanks to having my FPZERO simulator at home. Being able to jump on it whenever I want is really valuable to me as I spend my days running a business. I can go on for 10 minutes or 3 hours at a time. It's certainly much easier than flying to Dubai! Doing the long runs was really getting me back into flow of the track and is preparing me for my stints when we get to race day.
Data is also very valuable as Ryan prepares to race in the Dubai 24 Hours. With hours of video footage and telemetry from previous years in Audi R8 GT3 and Ginetta G55 GT4 race cars, Ryan has a lot of reference material to analyse and learn from. The onboard video highlights areas for overtaking, closing speeds on cars and allows him to compare his previous experiences to what he is learning on the sim.
Using the VBOX and Motec data logging systems built into the simulator the traces from a session are a valuable instrument for seeing how a driver can optimise their driving and understand how to go faster or even their areas of weakness. The data can even be used to overlay against real life data.
The FPZERO team wish Ryan the best of luck this weekend! You can follow the race live from the Hankook 24H Series website and on YouTube. You can also follow Ryan's progress on his Instagram @ryanratclifferacing
Until then, check out some fantastic POV onboard footage from Ryan in the Mercedes AMG GT3 at Silverstone GP from 2017!