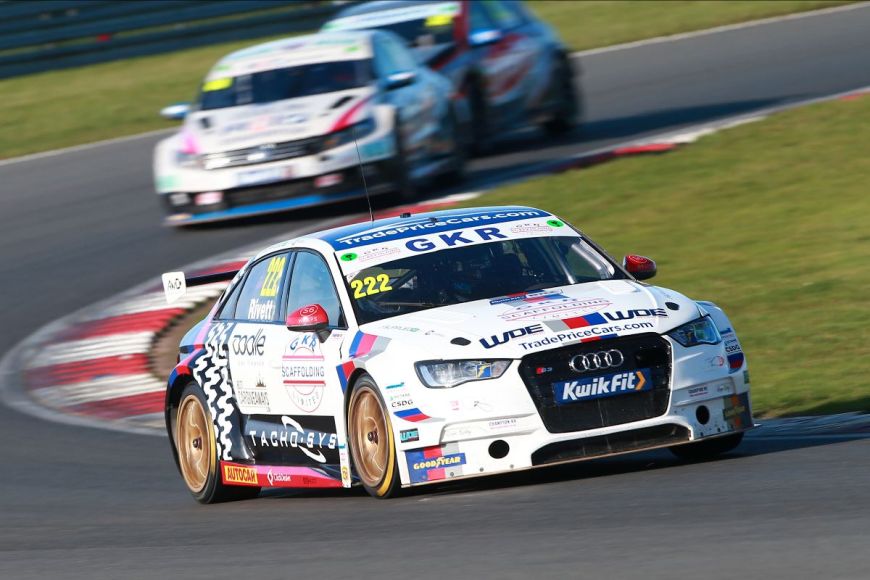 FPZERO partners GKR TradePriceCars.com team enjoyed a weekend of progress at Snetterton, even if there were no points to be scored from the penultimate weekend of the Kwik Fit British Touring Car Championship season.
The award-winning, Essex-based motor dealership headed for the weekend with a new look driver line-up, with multiple Clio Cup champion Paul Rivett joining the grid for the first time and MINI Challenger racer Ethan Hammerton being drafted in to replace team regular Bobby Thompson after he was ruled out with concussion. With no testing, the drivers used the FPZERO Pro II simulators to get up to speed and prepare for the weekend ahead.
The pair would both be forced to carry an additional 45kg of success ballast into the weekend as new drivers on the grid, which would feature on the two Audi S3s throughout practice, qualifying and the opening race.
With just one free practice session rather than the usual two, Saturday morning was all about getting much needed time on track, with Paul ending up with the 21st best time and Ethan in 26th on what was his first run in the car.
Come qualifying – held, like practice, in challenging cold conditions – both drivers would go noticeably quicker than they had done earlier in the day, with Paul improving by over a second to end up in 20th place, and best of the four new drivers carrying the additional weight.
Ethan meanwhile would go almost two seconds quicker than he had done in practice to end up 25th on the grid, with both drivers going into race day in confident mood.
The opening race of the weekend would pass without major drama for either driver, with both being able to make up places from their starting position.
A solid start for Paul saw him move up into 19th spot on the opening lap, and that was where the multiple Clio Cup champion would finish – despite briefly managing to get up into 18th. It meant he was best placed of the four drivers carrying new driver ballast, and left Paul just seven seconds away from the points scoring positions.
Ethan meanwhile stayed out of trouble to cross the line in 24th place as he continued to get up to speed in the Audi, with hopes high of both drivers battling further up the grid with the additional weight removed for race two.
Sadly for Paul, a poor start when the lights went out saw him drop down to the rear of the field and he would also find himself embroiled in contact in the pack as he had to settle for 23rd place.
Ethan however made solid progress across the 14 lap encounter, improving his quickest lap by nearly two seconds as he took the flag in 19th spot – making up two spots on the final lap to secure his best result in the series to date.
A storming start for Paul in race three saw him making up places on the run through turn one, but both he and Ethan would then lose out in skirmishes at turn two that saw them slip back down the order.
The pair would fight back however, with Paul coming through to 21st at the finish and Ethan following him home in 22nd.
The team will now head into the season finale at Brands Hatch next month seeking to end the campaign with a solid performance on home soil, with hopes high that Bobby will be able to return to action to fight for the Jack Sears Trophy, were he now sits 23 points off the lead.
Ethan Hammerton, #23 GKR TradePriceCars.com Audi S3, said:
"I think it was always going to be tough to step in this weekend and set the time-sheets alight with no time in the car, but we've made good progress. To get P19 in the second race was a highlight and I had some good battles so there are plenty of positives to take from that, and it was just a bit unfortunate that some contact at turn two in race three dropped us back at bit.
"It's been tricky with the weather conditions this weekend, particularly in race one when we had slicks on in the damp, but overall I'm really happy with how things have gone."
Paul Rivett, #222 GKR TradePriceCars.com Audi S3, said:
"It's been a weekend of ups and downs. Qualifying went well with the weight on the car and we had a good opening race, but then in race two, I messed up at the start and spun it up a bit, then got hit a few times and ended up at the back.
"Race three however was a great way to finish it off as I was able to really get stuck in and it was fun racing. On the first lap, I did about seven cars in one go into the hairpin but then got forced wide and lost them all again, but I fought back up the order and had a good race at the end with Jess Hawkins. I thought I could get her on the run to the line and she just forced me onto the grass – but that's racing.
"Of course I'd like to be higher up the grid as I'm used to running at the sharp end of the grid but we have something to build on from this weekend and I have a lot more confidence to take to Brands Hatch."