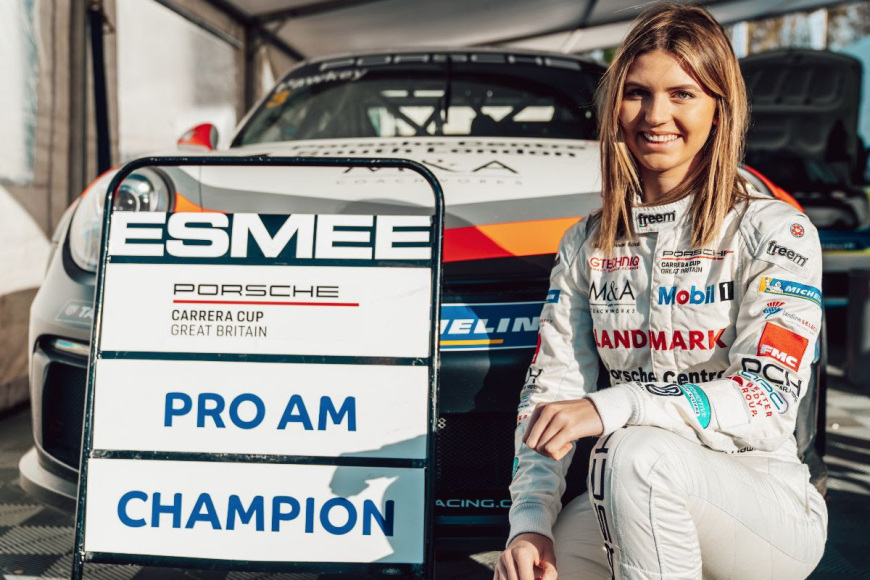 FPZERO Partner Esmee Hawkey finished the 2020 season off in style, claiming the 2020 Porsche Carrera Cup GB Pro-Am title at her home circuit of Brands Hatch, with a brace of second place finishes in tricky conditions.
The Chislehurst-based racer needed to score only one point from the 24 available over the course of the weekend to walk away with the title, with the challenge coming from her Team Parker Racing team-mate, Ryan Ratcliffe.
Rain fell early on Saturday morning ensuring a damp track for qualifying as the 475 bhp Porsche GT3 Cup machines took to the track, but Esmee was unable to get the best out of the car in the greasy conditions and settled for third on the grid.
Knowing all she had to do was finish the first race to take the championship, Esmee adopted a cautious approach, staying out of trouble and finishing second in Pro-Am to score eight points and ensure she took the championship in the process, allowing her to enjoy the moment as she stepped onto the podium to the delight of the team.
With the pressure off on Sunday, Esmee was able to enjoy her final race of the season. As rain from earlier in the day made way for the sun and a drying track, she was able to get a good start, settling into third in Pro-Am. Keeping her nose clean while class rivals had troubles, she crossed the line in second, recording her 15th podium out of 16 races this season.
Esmee hopes to have one final day on track this season, as one of her Silver Supporters enjoys hot laps alongside her in either her Porsche 911 GT3 Cup car or a Porsche 718 Cayman GT4 Clubsport, at Silverstone. After taking time to enjoy her 2020 success, the 22-year-old will announce her plans for next season in due course.
Esmee Hawkey
"It's been a great weekend for me. We came here with one goal, and that was to score the one point we needed to win the Pro-Am championship, so mission accomplished, and it was a mega weekend overall.
"Practice was okay. We weren't quite there in terms of pace and Ryan was a bit faster than us, but at the end of the day we knew we just had to finish a race and it would be job done. In qualifying I was third, just being pipped by [Jake] Rattenbury.
"In race one I just wanted to go out, keep it clean, keep it consistent and get that one point that I needed to win the championship. I was just really cautious about who was around me and made sure not to make any stupid decisions or mistakes. The track was really greasy, which aren't my preferred conditions as a driver, but I was really happy with P2 and it wrapped up the championship there and then.
"I was expecting a wet race two but actually the forecast changed so we had a dry track and were out on slicks. I got a good start but [Aaron] Mason just managed to get past me, then I was on the outside of turn two and couldn't really see Ryan in my mirrors, so he managed to get past as well. I was running in third but an incident between Ryan and [Scott] McKenna meant that Ryan went wide, and I ended up getting second. I was catching Mason towards the end, but we ran out of laps.
"All-in-all I'm super happy to be going home a champion. It's been a great year, a year that we didn't know was going to go ahead, and it did, so I'm thrilled that we've finally got the Pro-Am championship underneath us and I'm excited for what's to come in 2021."