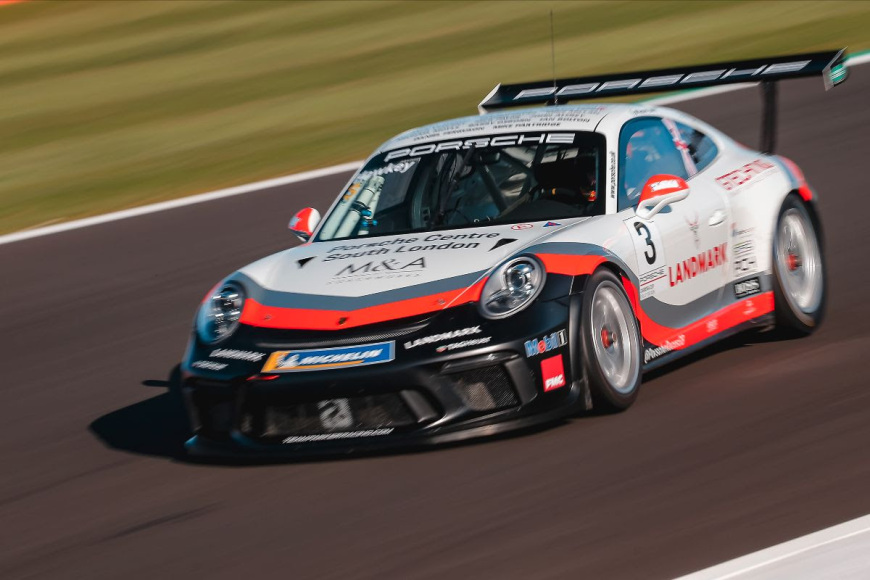 FPZERO Partner Esmee Hawkey enjoyed a perfect weekend at Silverstone in the Porsche Carrera Cup GB as she claimed pole position and two Pro-Am victories to open up a 19-point lead in the championship.
After a good showing in practice, the 22-year old performed well in qualifying where she battled a problem with the car but still managed to claim her class pole position ahead of rival and Team Parker Racing colleague Ryan Ratcliffe, who also trains using his FPZERO Pro II simulator.
With a clean start to race one, she remained ahead of Ratcliffe before an early Safety Car bunched the field up. Thereafter she extended the gap over him and enjoyed a battle with Pro class competitor Dorian Mansilla, eventually getting ahead of him and finishing tenth overall as well as first in class.
It was a similar story for Sunday's second race, where she again got away well and was in a battle with Pro driver Ross Wyle, repeating her result from the previous day with tenth overall and the Pro-Am victory, leaving her in the lead of the Drivers' Championship standings.
After a hectic schedule, Esmee will now enjoy a break in Porsche Carrera Cup GB action before returning to the track with Team Parker Racing in the series at Snetterton over the weekend of October 23-25.
There is still time for fans of Esmee to become a Silver Supporter and have their name carried on her Porsche 911 GT3 Cup car for the final rounds of the 2020 season. As well as receiving a signed photograph and signature cap, supporters will also be entered into a draw to win hot laps alongside her in either her Carrera Cup machine or a Porsche Cayman 718 GT4 Clubsport at Silverstone.
Esmee Hawkey
"Friday practice felt good. We had old tyres on, so I was happy with the performance of the car and tried some things on setup, so we knew what we'd be dealing with in the races. Overall it was good, and I was getting faster through the session. I missed FP2 for personal reasons, so we went straight into qualifying.
"Unfortunately, we had some issues, so I had to come in without setting a time on my first set of tyres. We tried something to see if it cleared it but I decided I needed to do a lap so I got on with it and while it wasn't the best session I managed to pip my rival Ryan by a few hundredths which meant I took home two points for pole out of a bad situation and knew I had a good car for the race.
"Race one I started 11th overall and was racing with the Pros. We had a Safety Car and I didn't hear on the radio the restart was coming so I was a bit further back from everyone and knew if I got every lap perfect, I could catch up. I got past Dorian, so I was happy, I made a place, finished tenth, and the race pace compared to the Pros was good, so I was very happy with it and was aiming to make more positions on Sunday.
"Race two was good. I started well and was setting the same lap times as the leading Pros and was hoping to take ninth from Ross Wylie but had a big lock-up on lap five and from there I was managing the gap to Dorian behind me. It's another win in Pro-Am and extending my lead in the championship. It's been a good weekend for me with two wins, pole, fastest lap, and a lot of points to take home! I'm looking forward to a bit of a rest, so I'll chill out then get back ready for Snetterton.