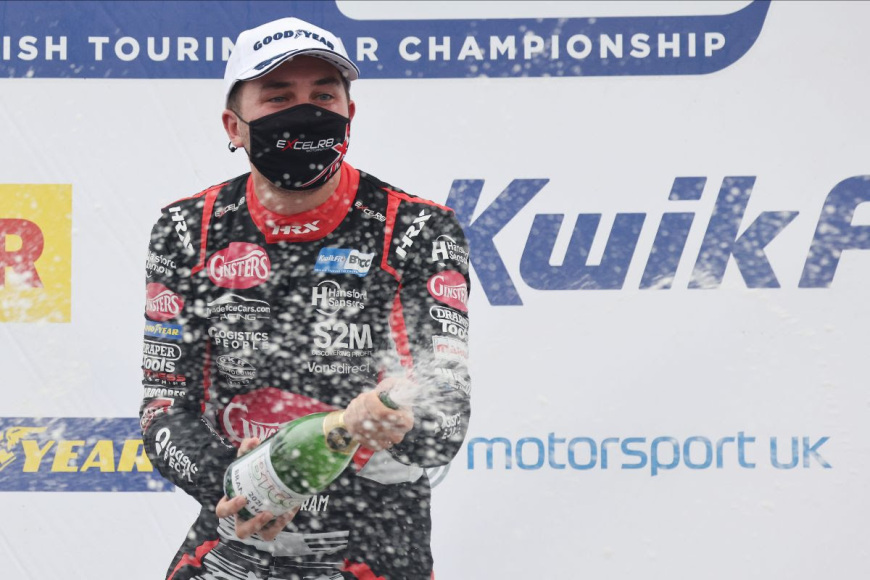 FPZERO Simulators Partner EXCELR8 Motorsport with TradePriceCars.com team continued its rich vein of form in the Kwik Fit British Touring Car Championship with a second win in as many meetings at Brands Hatch.
The Suffolk-based team headed for the Kent circuit on the back of a breakthrough success at Snetterton two weeks earlier, with drivers Tom Ingram, Chris Smiley, Jack Butel and Rick Parfitt all confident about their chances on track.
Free practice passed without drama for the team, with Tom fourth quickest in both sessions despite the additional ballast, and Chris ending both in twelfth place; his fastest time just two tenths of a second behind Tom.
Jack showed huge improvement between the two sessions to lap within seven tenths of a second of the fastest time, with Rick also improving his time across the 80 minutes of running used to prepare for qualifying.
With circuit conditions improving ahead of qualifying, Tom and Chris both managed to qualify inside the top ten for the opening race and would line up in sixth and eighth on the grid, with Rick fighting back well from losing all the times he had set in the first part of the session when he missed stopping at the pitlane weigh scales.
Keeping his head down, Rick headed back out on track and set his fastest time of the weekend to take 25th place, two spots ahead of Jack after he suffered a diff issue that hampered his chances of fighting higher up the order.
A fine start to the opening race saw Tom immediately jump up into the top three when the lights went out, but a tap from the Honda of Gordon Shedden at Clearways then unsettled the Hyundai and saw him shuffled back down to sixth spot.
Briefly slipping back to seventh as a result of the extra weight on the car, Tom was part of a train of cars that managed to fight ahead of Aiden Moffat mid-way through the race as he crossed the line in sixth spot, with Chris following him home in seventh.
The Northern Irishman enjoyed a relatively trouble free race despite slipping two spots on the opening lap, fighting his way ahead of both Stephen Jelley and then Moffat to secure a solid points finish.
Further down the order, Jack showed encouraging pace to fight his way forwards to 25th place having spent a chunk of the race battling on track with Rick. His race would ultimately end in a 29th place finish when a spin at Druids whilst making a move on Nicolas Hamilton's Cupra saw him slip to the back of the field.
A storming start to race two saw Tom rocket up into third place when the lights went out, and he would shadow the Honda of Dan Rowbottom in the first half of the race before losing a spot to Jake Hill's Ford.
When Hill then went off with a puncture, Tom wasted little time in fighting his way ahead of Rowbottom into second spot and chased down leader Tom Oliphant, launching his bid for the position going into the final lap.
Putting his car up the inside, Tom slipped through into the lead and wrapped up a second win in as many meetings to also take the championship lead.
As in the opening race, Chris was able to also run strongly inside the top ten throughout as he repeated his race one result, whilst Jack crossed the line on the fringes of the top 20 after a hugely impressive drive that saw him matching the pace of the leading runners.
An unfortunate penalty saw him demoted to 25th place in the end results, which left him two spots behind Rick, who raced well throughout in an on-track battle for position with Jade Edwards and Andy Neate.
The reverse grid draw saw Chris leading the way in sixth place, and he held his position at the start before being shuffled back down the order on lap two. As a number of quicker cars fought their way through the pack, Chris slipped to tenth spot but showed consistent pace throughout to end the weekend with a third top ten finish.
Now carrying full ballast on his car after his race two win, Tom found himself mired in the same midfield battle as Chris, with the weight preventing him from making progress up the order as he finished where he started in twelfth spot.
Strong pace once again from Jack saw him fight back from his race two penalty as he came through to 21st spot at the end of his most competitive weekend of the year to date, whilst Rick battled back from contact in the early stages to finish 26th having also shown the pace to match rivals much further up the field.
At the end of the weekend, Tom sits second in the overall standings and the Independents' standings, whilst Jack holds fourth in the Jack Sears Trophy for drivers without an overall podium finish.
Ginsters EXCELR8 with TradePriceCars.com also heads the Independent team standings ahead of round four at Oulton Park in late July, with a two-day test at the circuit being scheduled for early next month.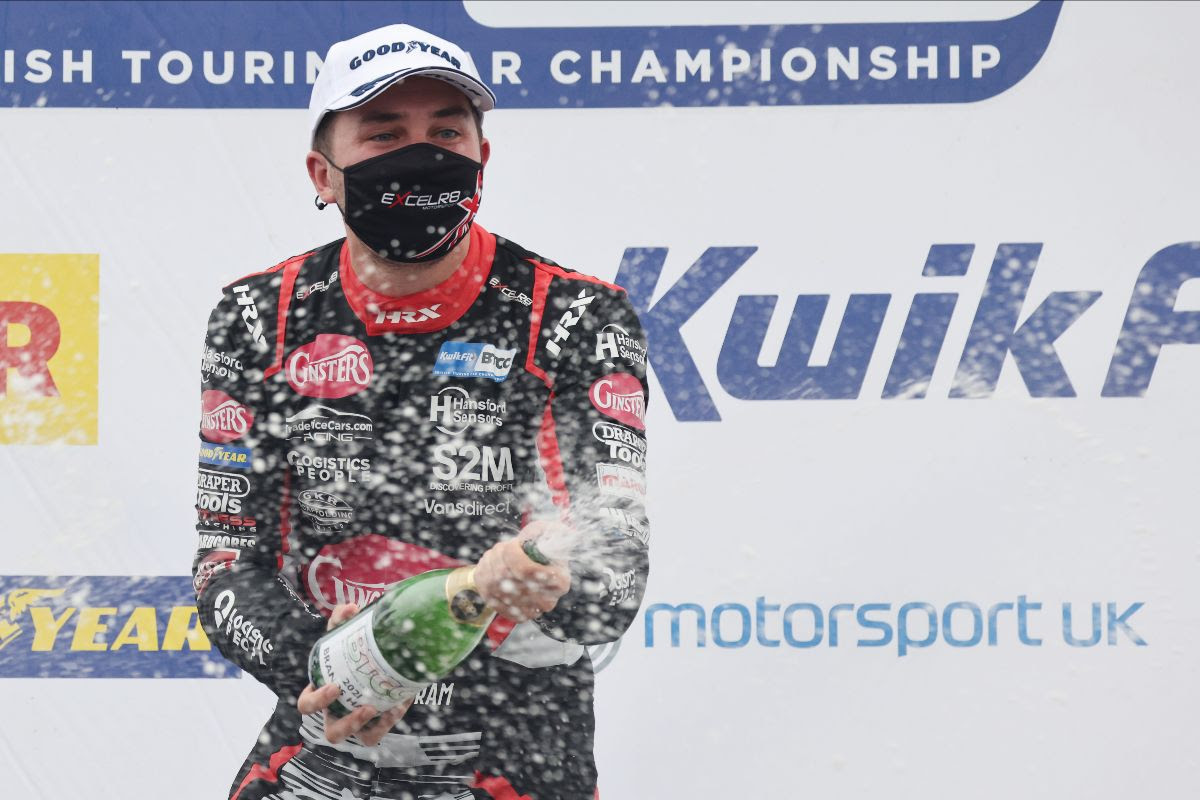 Chris Smiley, #22 Ginsters EXCELR8 with TradePriceCars.com Hyundai i30 Fastback N, said:
"We've had three good finishes in the top ten and to do that round here is tough. I've been able to learn a lot once again this weekend and it seems to be that at the moment, we are just struggling a little bit in the early stages of races. As they wear on, we're getting quicker, so maybe there is a change we need to make to the car so we are quicker in the early phases.
"We've been right there in the top ten all through race day and kept our nose clean. Thankfully we've avoided any drama, and come away from the weekend with some good points on the board."
Rick Parfitt, #62 EXCELR8 with TradePriceCars.com Hyundai i30 Fastback N, said:
"We've made a massive leap forwards this week in terms of how I understand the car and I just need to do better in qualifying. When you're near the back, it's hard to make up places as everyone is so close but my race pace today has been strong. In race two I was lapping as quick as Tom, which is great for me at this stage of the season.
"In race three I was making good progress until I got rear-ended and dropped back but then I had a good fight with Jade Edwards and kept her behind me which was a nice way to end the weekend. I can go away from here knowing that I'm getting quicker, and just have to work hard to keep improving."
Tom Ingram, #80 Ginsters EXCELR8 with TradePriceCars.com Hyundai i30 Fastback N, said:
"I think it's been a really positive weekend for us again. With the weight coming in, we knew that race two provided our best chance at spraying the champagne as it was going to be tough in qualifying and race one. We lost some weight in race one as we expected and got a top six, and I then really enjoyed race two.
"Tom only really gave me one chance to get ahead and I didn't need a second one when he left the largest gap in the world; there was no second invitation required when we were going for a win. To get another victory for the team is fantastic, and having picked up more points in race three, it's still nice and close in the standings heading to Oulton Park."
Jack Butel, #96 EXCELR8 with TradePriceCars.com Hyundai i30 Fastback N, said:
"We were unfortunate with the issue in qualifying as we'd shown good pace in practice, but we have come back strong on race day with some really solid performances. We made up places in race one which was a good start and then in race two, I was delighted with the pace we showed when you compared it to the guys at the front.
"The penalty set us back a bit again for race three but again I was able to pick people off in front so I think I can take a huge amount away from this weekend. I don't think it will be long until we are able to bring home a points finish."
Justina Williams, team owner, said:
"It's been another strong weekend and I'm really pleased that we have been able to go out on track at Brands Hatch and back up the results we scored at Snetterton. Tom put in a really good drive to take the win in race two, and Chris has also done a really good job to be in the thick of it inside the top ten all weekend.
"Both Jack and Rick have taken a big step forwards in terms of their race pace this weekend which is really encouraging, and with the test at Oulton Park to come, both will get more valuable track time to ensure they come out fighting at the next round."