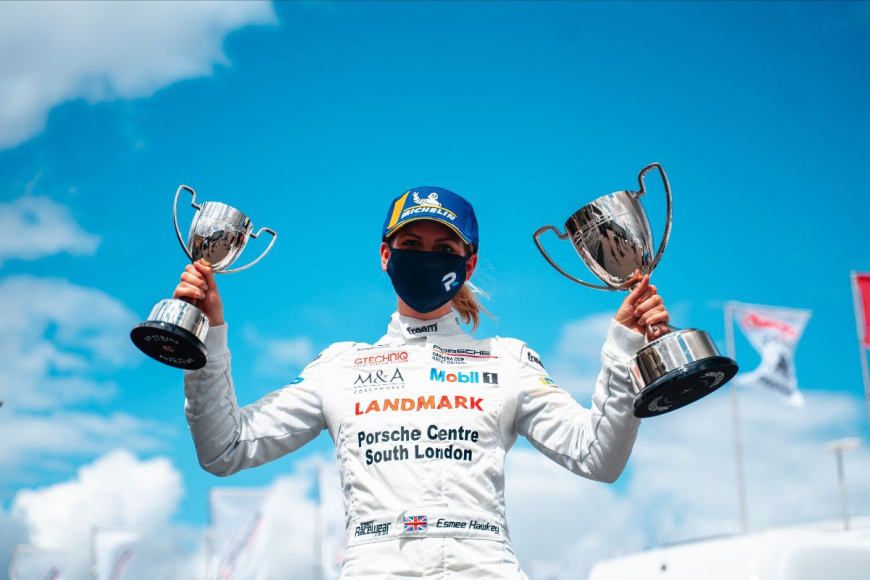 FPZERO Simulators partner Esmee Hawkey enjoyed a fantastic start to her Porsche Carrera Cup GB campaign as she not only took two Pro-Am victories to lead the class standings, but also claimed a superb overall podium finish as well.
Competing for the first time with Team Parker Racing, the 22-year old raced with a heavy heart following the passing of friend and former team boss Paul Mace, but she stunned the field in qualifying by topping the times towards the end of the session, only being pipped in the final moments by team-mate and Porsche Junior driver Harry King.
As the lights went out for race one, she was passed by another colleague and former champion, Josh Webster, but then settled in behind her Pro class stablemates for the duration of the 23-lap contest, taking a remarkable third overall, as the team swept the podium places.
Starting race two second once again, after the partial reverse grid draw, she was running comfortably in third place but lost a number of positions when Webster got past and others followed him through. Never-the-less she still had a comfortable lead over her ProAm class rivals, finishing an excellent seventh overall, to take another Pro-Am victory and the Driver of the Weekend award.
The performance means Esmee leads the Pro-Am championship standings by eight points as she travels to her local track, Brands Hatch, for two more races this weekend on its challenging Grand Prix circuit.
Once again, live coverage of the races will be broadcast on ITV4 and online at ITV.com. Qualifying is scheduled for 10:55 on Saturday, August 8, with two 17-lap races set to begin at 11:30 and 15:55 on Sunday, August 9.
Esmee Hawkey
"It was a mega weekend. Coming to Donington Park I didn't know what to expect, but I was hoping to be fighting for fifth place. Going into qualifying, on the first set of tyres, I didn't quite get the perfect lap together, so I knew that on my second set of boots I'd have to find a bit more time. I went out and just knew I had to put my head down to get a good time. When I came into the pits, I was P1 and Harry just got me on the last lap, but it was a mega, mega qualifying session. I was absolutely over the moon.
"For race one, starting on the front row of the grid, I was nervous and excited at the same time. I got a pretty good start, Josh got me at the first corner, but I just slotted in behind he and Harry and just did consistent laps throughout the race. I had Scott McKenna in my mirrors a lot of the time, so I had some pressure. It was a tough one but to finish third overall, I'm really, really happy with.
"I was in second place on the reverse grid for race two and got a really good start but was pushed wide out of turn one and slotted into third. I got bashed about a bit, so it was a tricky race. Josh managed to get past me into turn one and a few others followed through which was a shame but seventh overall in the second race isn't bad and to come away with two Pro-Am wins, I'm absolutely over the moon with. The season is looking super promising after what we've done this weekend.
"I love Brands Hatch. It's my home circuit so I'm really looking forward to having the support of my family and friends who can attend. The GP circuit is a great track and one I really enjoy. It's going to be a tough one, and qualifying is going to be super important. Our expectations coming into Donington were massively exceeded, so if we can keep building, we're going to see many more overall podiums this year.
"Changing teams has had a huge impact on my success this year already. You can't do much with the car, but it's the process and the team behind you. Being able to work with other drivers has meant I've learnt a lot. Before I had nothing to compare against so I kind of hit a brick wall but when you have access to the data and you are able to see where you can improve, that's what makes you a better driver. There's going to be a lot more to come."